Our club runs are social rides with a mid-ride café stop, leaving every Sunday and Wednesday morning from the Fleming Avenue car park in North Baddesley. The number of groups going out depends on how many people turn up and we cover distances from 35-70 miles at speeds ranging from 12-20 mph.
Start times
Sunday club runs start at 9am April-October and 9:30am November-March. Wednesday rides (the Wednesday Wheelers) start at 10am all year round.
Finding us
Sunday and Wednesday club runs leave from the car park next to the Fleming Avenue Shopping Parade in North Baddesley, SO52 9EN.
Riding with Sotonia
If you are new to the club and would like to join one of our rides, see our Riding with us page for more information. Please bring along a completed new rider form and when you turn up let people know you're new so we can help you find a group to ride with.
Routes
We are collecting and publishing tried and tested routes suitable for club rides or just riding on your own – please help yourself here.
Covid-19 guidance
From 17 May 2021, up to 30 people can gather outdoors, meaning we can turn up for club runs at North Baddesley start point without having to arrange rides in advance – however please do continue to organise rides on Slack if it works for you. We can ride in groups of up to 12 riders again (the club's group size limit).
All members are welcome to join our Slack workspace, which we were using to organise group rides with a range of different average speeds and distances before lockdown. When you join you won't see all the available channels and will need to use the Channel browser to find and join channels as follows below.
Social distancing
We have to continue to observe social distancing until at least 21 June – with this in mind we ask that members continue to observe "one metre plus" social distancing with other members of their group. Ride leaders ensure their groups stay a safe distance away from other groups and members of the public – please continue to use the zones as a guide to suitable meetup places.
If all goes to plan, from 21 June we'll be able to return to normal: Ride in groups of up to 12 riders (the Club's longstanding limit).
Café stops
From 17 May groups of up to 6 will be able to eat indoors. If you're riding in a group of more than 6 people, please bear this limit in mind and be prepared to eat outdoors or split up into two groups before entering a café. This map shows café stops – suitable for club rides or when you're out cycling with friends.
Desktop
Hold the mouse over Channels on the left sidebar; a plus sign should appear to the right. Click that and choose Browse channels. In the Channel browser, hover over a channel to get a Join button which you can click to join the channel.
If you want to organise rides not already caterered for by the existing channels, or create a channel for discussion/chat etc., you can use the Create a channel option to create a new channel.
Mobile*
On the Slack home screen, look for a Channels heading with some channels listed below. Tap on Add a Channel (below the list) to open the Channel browser. Click on a channel to view it, then use the Join Channel button to join.
If you want to organise rides not already caterered for by the existing channels, or create a channel for discussion/chat etc., you can add a channel using the plus sign in a circle at the bottom right of the Channel browser.
*Based on Android but hopefully iOS is similar.
Meeting up
Each group can meet up when and where they want, but if you use our traditional meetup point off Fleming Avenue in North Baddesley, please see the map below. We've defined 9 zones to ensure groups stay far enough apart to ensure social distancing and to avoid obstructing members of the public using the shops, car park and recycling facilities.
The plan is for groups to agree on a time and zone to meet up at, and if another group is already using that zone when you arrive, simply use another one. Zones 2 & 3 should be avoided if the car park is busy.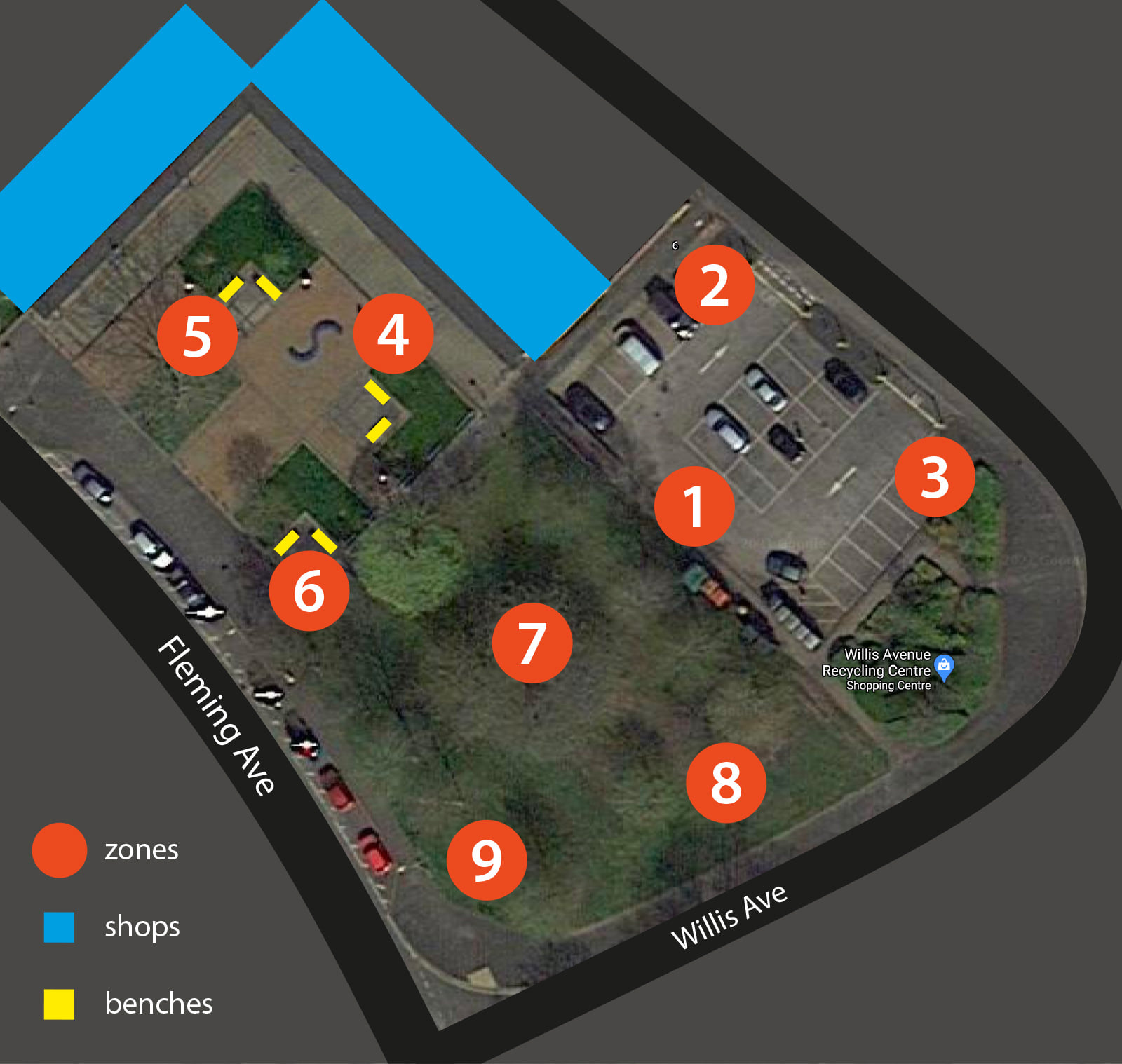 We welcome new members wanting to join a friendly, active club-riding and racing scene.
FIND OUT MORE