Congratulations to VC Venta who were victorious the annual time trial three-way between Sotonia, VC Venta and Andover Wheelers. This year was our turn to organise the event which was run on the 14 ish mile P183a Leg Loosener course in Nomansland.
Ant Gritton (Sotonia) was fastest man with a time of 34m17s, managing to keep 15 year old Matthew Gilmour (Venta) from the top spot and taking the Strava course KOM in the process, with Kouros Driscoll (Sotonia) in third place.
The women's top three were all Sotonia riders, with Gemma Wilks (Sotonia) putting in a winning time of 43m15s, beating off Danielle Thomas (Sotonia) in second place and Donna Bennett (Sotonia) in third.
Despite five of the six podium places going to Sotonia, VC Venta won the competition with a lot of fast times from their riders and a good showing from their youth section.
Helpers
Organiser: Phil Wilks
Time keepers: Martin Naper, Julian Gee and Dave Crocker
Marshals: Tim Cooke, Jon Dudley, Lee Shirley and Graham Harman
Results: Women
| | | | |
| --- | --- | --- | --- |
| 1 | Gemma Wilks | Sotonia CC | 43.15 |
| 2 | Danielle Thomas | Sotonia CC | 45.13 |
| 3 | Donna Bennett | Sotonia CC | 46.16 |
| 4 | Jen Marshall | Sotonia CC | 51.12 |
| 5 | Brenda Hoult | VC Venta | 52.37 |
| 6 | Isla Hoult | VC Venta | 56.37 |
| 7 | Tamsin Hoult | VC Venta | 61.06 |
Results: Men
| | | | |
| --- | --- | --- | --- |
| 1 | Ant Gritton | Sotonia CC | 34.17 |
| 2 | Matthew Gilmour | VC Venta | 34.43 |
| 3 | Kouros Driscoll | Sotonia CC | 35.32 |
| 4 | Brendan Reese | Sotonia CC | 35.34 |
| 5 | Jamie Franklin | VC Venta | 37.36 |
| 6 | Pedro Hutchinson | VC Venta | 37.47 |
| 7 | Will Sawyer | Andover Wheelers | 37.50 |
| 8 | Bobby Buenfeld | VC Venta | 37.57 |
| 9 | Neil Towns | VC Venta | 38.00 |
| 10 | Max Webber | Andover Wheelers | 38.18 |
| 11 | Paul Mustow | Andover Wheelers | 38.33 |
| 12 | Dave West | Andover Wheelers | 39.02 |
| 13 | Sam Cooper | Andover Wheelers | 39.56 |
| 14 | Jeremy Hubbard | Sotonia CC | 40.26 |
| 15 | Mike Naulls | VC Venta | 40.43 |
| 16 | Tony Hamilton | Andover Wheelers | 40.50 |
| 17 | Pawel Niewiadomy | VC Venta | 40.56 |
| 18 | Dan Mason | Andover Wheelers | 41.07 |
| 19 | Christopher Purver | VC Venta | 41.09 |
| 20 | Marius Kwint | VC Venta | 42.19 |
| 21 | Mike Anderson | VC Venta | 42.27 |
| 22 | Oliver Starkey | Sotonia CC | 42.39 |
| 23 | Jason Harrison | Sotonia CC | 42.50 |
| 24 | David Martin | VC Venta | 42.59 |
| 25 | Ben Gregson | Sotonia CC | 43.39 |
| 26 | Neil Wyatt | VC Venta | 43.42 |
| 27 | Robert Tutt | VC Venta | 44.09 |
| 28 | Adrian Baxter | VC Venta | 44.10 |
| 29 | Oscar Hoult | VC Venta | 45.23 |
| 30 | Keith Irvine | VC Venta | 47.15 |
| 31 | Ian Wall | Sotonia CC | 49.15 |
| 32 | Corbin Gregson | Sotonia CC | 50.34 |
| 33 | Paul Edmonds | Sotonia CC | DNF |
Points competition
| | |
| --- | --- |
| VC Venta | 164 points |
| Sotonia CC | 154 points |
| Andover Wheelers | 67 points |
Points were awarded as follows…
1 point for each rider who starts
Points for the fastest 20 men (20 down to 1)
Points for the fastest 20 women (20 down to 1)
2 additional points for each rider under 18
2 additional points for each rider 60 or over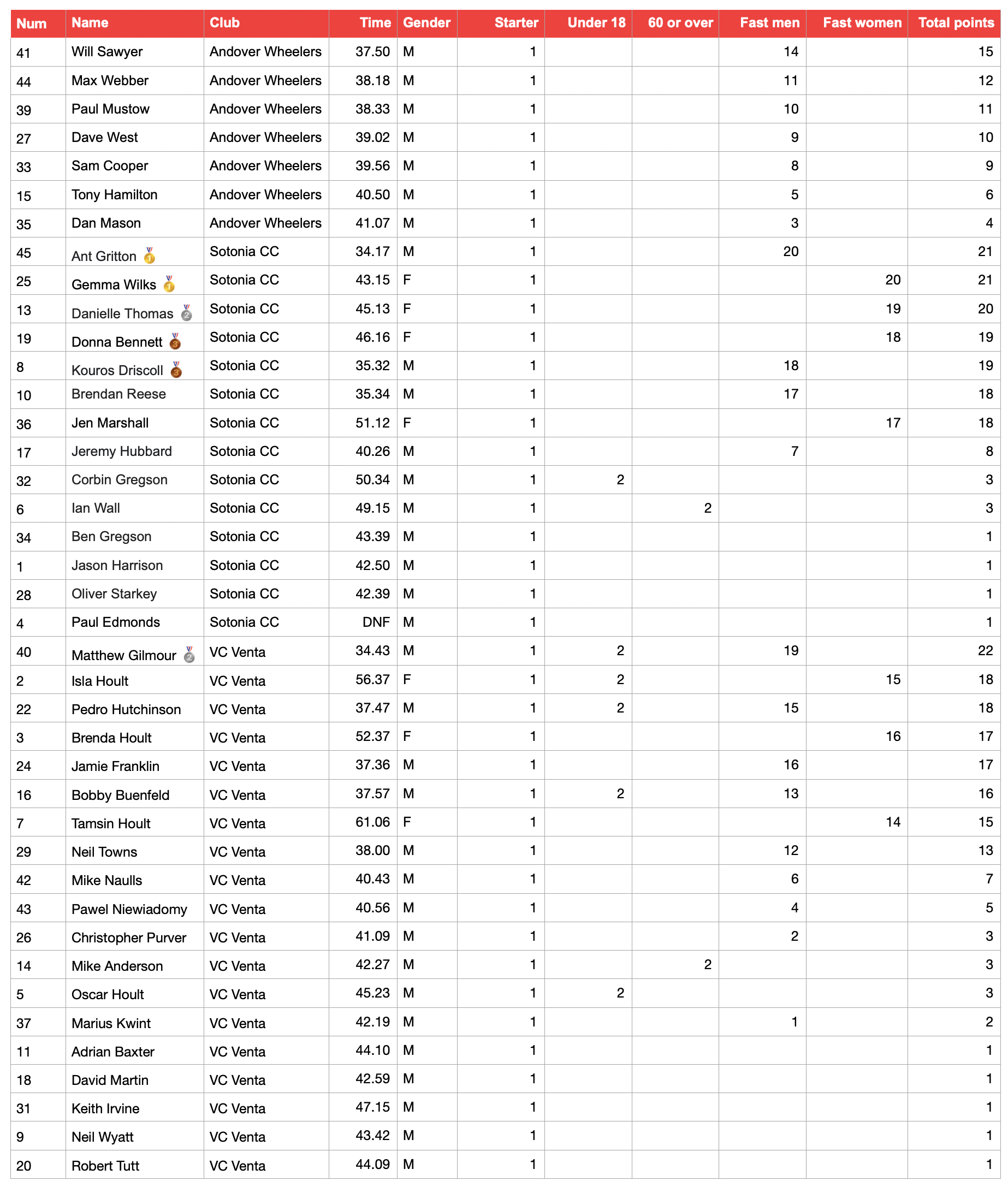 Photos
Thanks to Tim and Stuart for taking photos and Julian for his video of the event…
https://www.flickr.com/photos/193338309@N06/sets/72157719457355776/
https://www.flickr.com/photos/193233846@N05/albums/72157719458972526