Thank you to all the riders who entered the rearranged Leg Loosener TT after the March event was postponed due to snow. It was a very windy morning, with a nasty headwind on the exposed section on Roger Penny Way.
A massive thank you also to all the marshals, timekeepers, HQ helpers and everyone who baked a cake!
---
The men's road bike event resulted in a tie between Dave Dent (GS Stella) and Ben Skinner (Rule 5) with Ed Slot (Sotonia) finishing 12 seconds behind the pair in third please.
The women's road bike event was won by Ed's sister Chrissie Slot (IRIS Race Team) on what was her first ever time trial. In second place was Kym Harvey (Fat Creations).
The men's TT bike event was won by our own Ant Gritton (Sotonia) with Paul Lockyer (New Forest CC) 14 seconds behind and Julian Lockwood (Primera-Teamjobs) in third place.
The women's TT bike event was the only of the four events not to have any non-starters so a special mention should go to Faye, Hayley, Kirsty, Michelle W, Claire, Michelle L and Debie for not braving the windy conditions and giving us a great race!
First place went to Faye Faber (Bike Jockey CC) with an impressive ride to finish the hilly 14.5 mile course in just under 40 minutes, beating two-time national champion and professional cyclist Hayley Simmonds (Team WNT Pro Cycling) who finished in second place after undergoing surgery for a broken elbow in mid June. Third place went to Kirsty Mcseveney (Fareham Wheelers CC).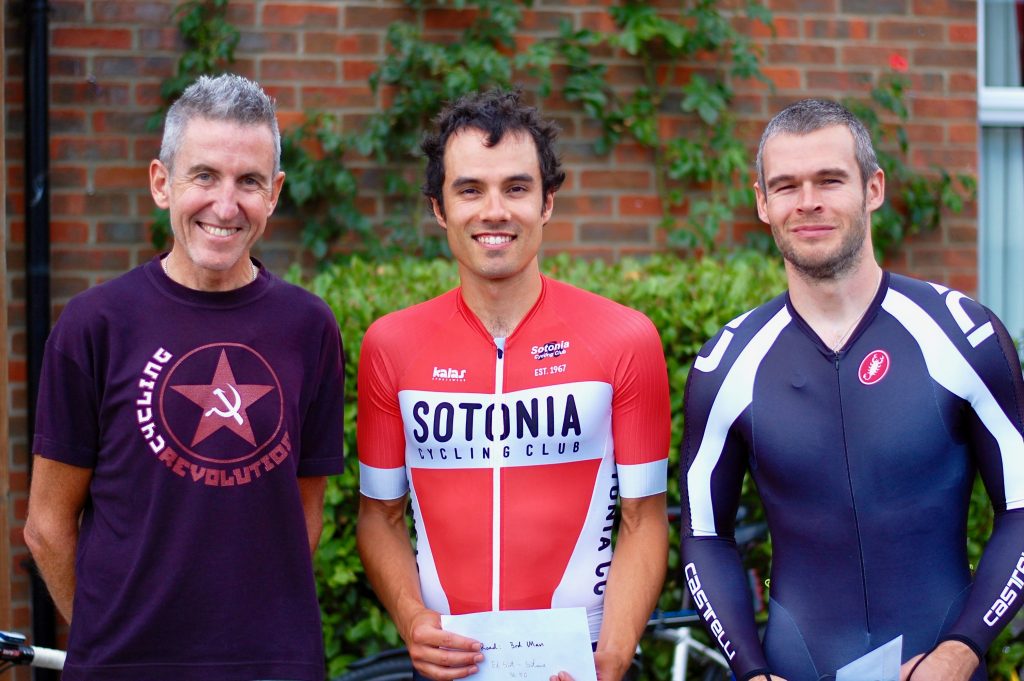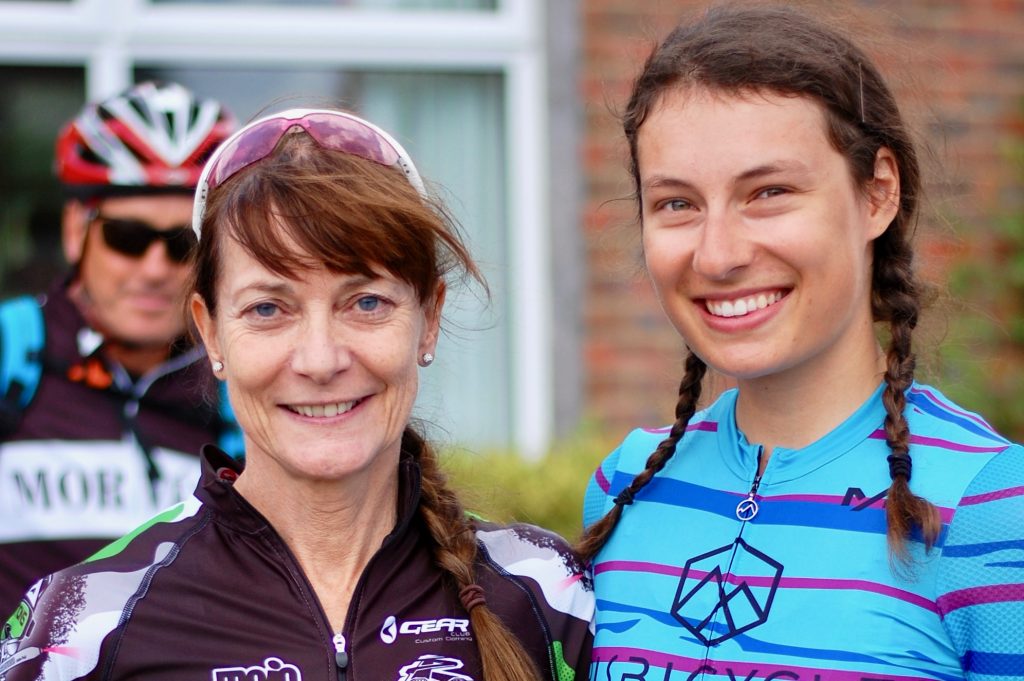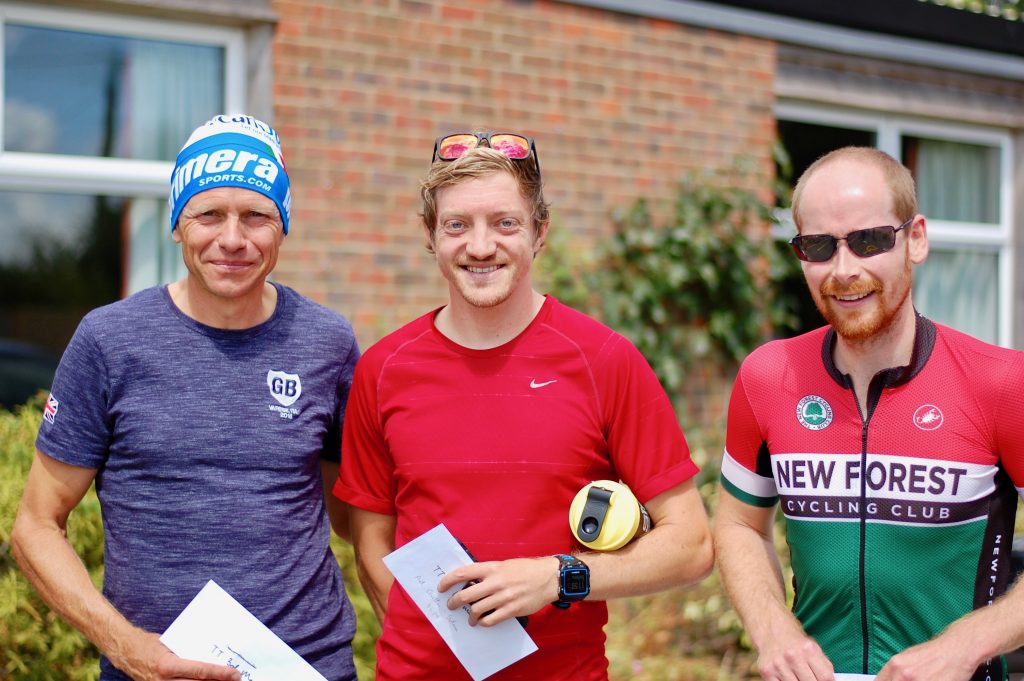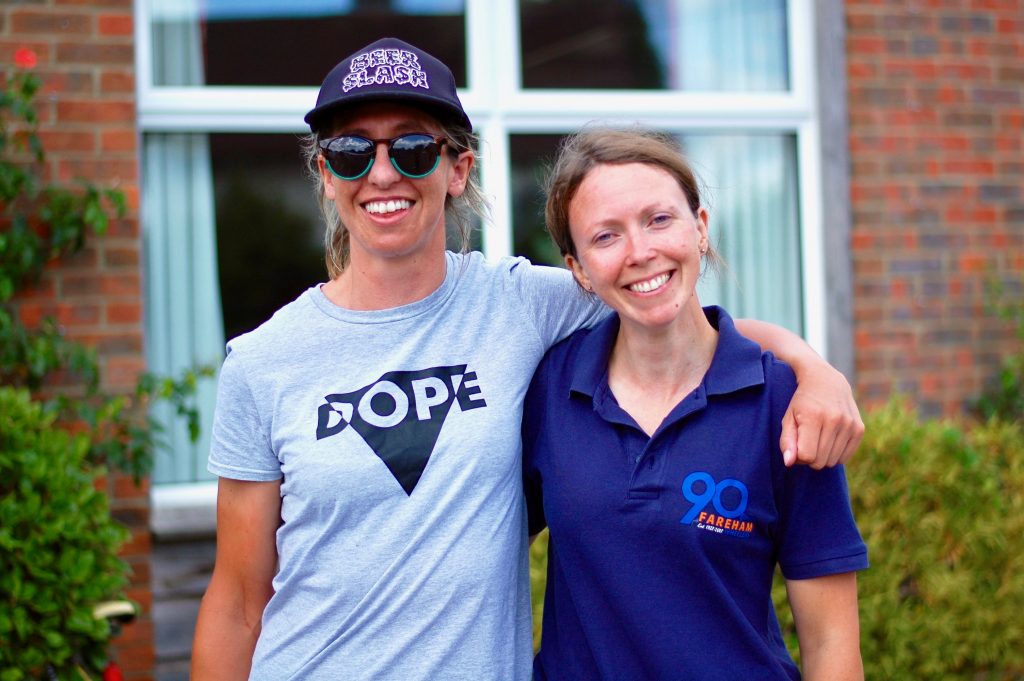 Road Bike: Men
| Position | Time | Name | Club |
| --- | --- | --- | --- |
| 1 = | 36:38 | Ben Skinner | Rule 5 |
| 1 = | 36:38 | Dave Dent | GS Stella |
| 3 | 36:50 | Ed Slot | Sotonia CC |
| 4 | 37:03 | Callum Dunford | Sarum Velo |
| 5 | 38:17 | Elliot Chilton | New Forest CC |
| 6 | 38:36 | Liam Somerville | Bike Jockey CC |
| 7 | 40:07 | Patrick Stumpf | Sotonia CC |
| 8 | 40:24 | Joffrey Carlier | Sotonia CC |
| 9 | 40:29 | Philip Godfrey | Sotonia CC |
| 10 | 40:57 | David West | Salisbury Road and Mountain CC |
| 11 | 41:07 | Nick Jones | Bournemouth Jubilee Whs |
| 12 | 41:32 | Richard Bradley | 3C Cyclexperience |
| 13 | 41:45 | Stewart Ward | New Forest CC |
| 14 | 42:09 | James Davenport | VTTA (Wessex Group) |
| 15 | 42:22 | Leon Maidment | Sotonia CC |
| 16 | 42:38 | Jerry Bromyard | …a3crg |
| 17 | 42:59 | Jon Chapman | Sotonia CC |
| 18 = | 43:02 | Tim Mason-hambidge | DHCyclesport |
| 18 = | 43:02 | Tom Jojic | Sarum Velo |
| 20 | 43:05 | Stephen Skinner | Velo Club St Raphael |
| 21 | 43:10 | Rupert Silman | Bournemouth Jubilee Whs |
| 22 | 43:39 | Mike Anderson | Velo Club Venta |
| 23 | 44:47 | Robert Tutt | Velo Club Venta |
| 24 | 44:52 | James Wells | University of Bath Cycling Club |
| 25 | 45:27 | Andrew Mayfield | Bournemouth Arrow CC |
| 26 | 45:36 | Jason Harrison | Sotonia CC |
| 27 | 45:47 | Stephen Shepherd | Sotonia CC |
| 28 | 46:07 | Richard Burch | Sotonia CC |
| 29 | 47:06 | Julian Sheppard | New Forest CC |
| 30 | 50:49 | William Simmons | Christchurch Bicycle Club |
| 31 | 52:54 | Martin Balk | 3C Cyclexperience |
| 32 | DNF | Harry Parsons | Sotonia CC |
| | DNS | Adrian Watkins | Tornado Road Cycling Club |
| | DNS | Ben Butterworth | Poole Whs |
| | DNS | Bob Richardson | Bournemouth Jubilee Whs |
| | DNS | David Mitchell | 3C Cyclexperience |
| | DNS | Ian Sherin | 3C Cyclexperience |
| | DNS | Jamie Franklin | Velo Club Venta |
| | DNS | John Pennington | Team Athlete Lab CC |
| | DNS | John Phillips | Sotonia CC |
| | DNS | John Way | …a3crg |
| | DNS | Keith Loudon | Portsmouth Triathletes |
| | DNS | Marcus Attridge | Bike Jockey CC |
| | DNS | Matthew Whelan | DHCyclesport |
| | DNS | Michael Banfield | DHCyclesport |
| | DNS | Nicholas Hale | Farnborough & Camberley CC |
| | DNS | Nicholas Ullett | Royal Navy & Royal Marines CA |
| | DNS | Patrick Brennan | …a3crg |
| | DNS | Phil Wilks | Sotonia CC |
| | DNS | Rick Evans | Racing Club Ravenna |
| | DNS | Robert Pretorius | …a3crg |
| | DNS | Robert Gilmour | Hounslow & District Whs |
| | DNS | Steve Bancroft | Sotonia CC |
| | DNS | Steve Robertson | Andover Wheelers |
| | DNS | Tony Hamilton | Salisbury Road and Mountain CC |

Road Bike: Women

| Position | Time | Name | Club |
| --- | --- | --- | --- |
| 1 | 46:24 | Chrissie Slot | IRIS Race Team |
| 2 | 47:01 | Kym Harvey | Fat Creations |
| | DNS | Lara Clarke | Team Athlete Lab CC |
| | DNS | Lizzie Gerard | Southdown Velo |
| | DNS | Emily Warner | 3C Cyclexperience |
| | DNS | Angela Carpenter | …a3crg |

TT Bike: Men
| Position | Time | Name | Club |
| --- | --- | --- | --- |
| 1 | 35:19 | Ant Gritton | Sotonia CC |
| 2 | 35:33 | Paul Lockyer | New Forest CC |
| 3 | 36:50 | Julian Lockwood | Primera-Teamjobs |
| 4 | 37:00 | Brendan Reese | Army Cycling Union |
| 5 | 37:08 | Andy Smith | Velo Club St Raphael |
| 6 | 37:32 | Peter Younghusband | Petersfield Triathlon Club |
| 7 | 37:58 | Ray Claridge | New Forest CC |
| 8 | 38:16 | Paul Morris | Fareham Wheelers CC |
| 9 | 38:47 | David Dalton | Fareham Wheelers CC |
| 10 | 40:43 | Michael Naulls | Velo Club Venta |
| 11 | 40:51 | Darren Cole | Bike Jockey CC |
| 12 | 41:43 | Tom Smith | Velo Club Venta |
| 13 | 44:08 | Oliver Berney | Royal Sutton CC |
| 14 | 45:28 | Neil Dyble | Bournemouth Arrow CC |
| | DNS | Ian Hatch | Sotonia CC |
| | DNS | Adam Graves | Southampton Tri Club |
| | DNS | Lee Rutland | Bike Jockey CC |
| | DNS | Damon Payne | Royal Navy & Royal Marines CA |
| | DNS | Martin Beale | Velo Club St Raphael |
| | DNS | David Triska | Velo Club Godalming & Haslemere |
| | DNS | William Sawyer | Andover Wheelers |
| | DNS | Andrew Rivett | Velo Club St Raphael |
| | DNS | Shawn Gray | Gillingham and District Wheelers / Wheels Cycles |
| | DNS | James Fox | Velo Club Venta |
| | DNS | James Goward | Farnborough & Camberley CC |
| | DNS | James Horton | Velo Club St Raphael |
| | DNS | Lee Morgan | Team Bottrill / Vanguard |
| | DNS | Gary Chambers | NOPINZ |

TT Bike: Women
| Position | Time | Name | Club |
| --- | --- | --- | --- |
| 1 | 39:57 | Faye Faber | Bike Jockey CC |
| 2 | 40:28 | Hayley Simmonds | Team WNT Pro Cycling |
| 3 | 41:52 | Kirsty Mcseveney | Fareham Wheelers CC |
| 4 | 43:38 | Michelle Walter | Bournemouth Arrow CC |
| 5 | 46:16 | Claire Newman | Crabwood CC |
| 6 | 47:08 | Michelle Lock | GS Stella |
| 7 | 47:26 | Debbie Hallett | Bournemouth Arrow CC |