We are all looking forward to being able to ride in groups again on 29th March when the lockdown regulations are due to be eased, allowing 6 people to exercise together again.  The guidance below is intended to help our members organise rides and meet up in a way that facilitates social distancing. We've also included a list of café stops known to be open, closed or reopening on 12 April.
Group size
In line with the easing of lockdown measures, we ask that members to stick to a maximum of 6 people per group for the time being.
Organising rides
Having considered the options, we are asking members once again to organise rides in advance rather than turn up at North Baddesley hoping to join a group.
Some members will be riding with friends or arranging rides via email, but all members are welcome to join our Slack workspace, which we were using to organise group rides with a range of different average speeds and distances before the "Stay at home" lockdown. When you join you won't see all the available channels and will need to use the Channel browser to find and join channels as follows:
Desktop
Hold the mouse over Channels on the left sidebar; a plus sign should appear to the right. Click that and choose Browse channels. In the Channel browser, hover over a channel to get a Join button which you can click to join the channel.
If you want to organise rides not already caterered for by the existing channels, or create a channel for discussion/chat etc., you can use the Create a channel option to create a new channel.
Mobile*
On the Slack home screen, look for a Channels heading with some channels listed below. Tap on Add a Channel (below the list) to open the Channel browser. Click on a channel to view it, then use the Join Channel button to join.
If you want to organise rides not already caterered for by the existing channels, or create a channel for discussion/chat etc., you can add a channel using the plus sign in a circle at the bottom right of the Channel browser.
*Based on Android but hopefully iOS is similar.
Meeting up
Each group can meet up when and where they want, but if you use our traditional meetup point off Fleming Avenue in North Baddesley, please see the map below. We've defined 9 zones to ensure groups stay far enough apart to ensure social distancing and to avoid obstructing members of the public using the shops, car park and recycling facilities.
The plan is for groups to agree on a time and zone to meet up at, and if another group is already using that zone when you arrive, simply use another one. Zones 2 & 3 should be avoided if the car park is busy.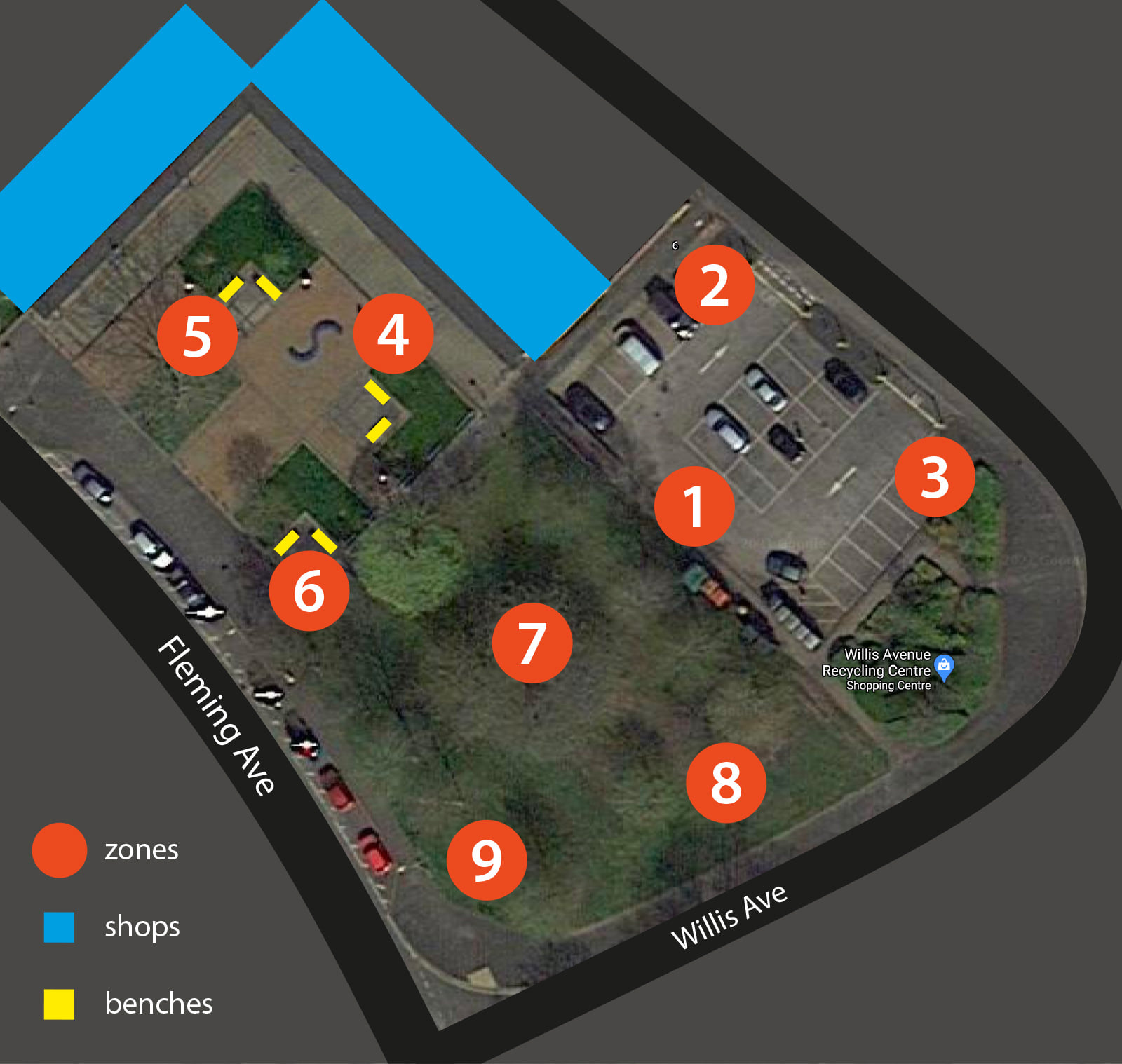 Café Stops
The café stops listed below are currently open for takeaways, followed by a list of ones that are closed. Opening arrangements may be subject to change and we recommend checking in advance if you're planning to stop somewhere.
New Forest

Beaulieu
Pallets
Beaulieu
Steff's Kitchen
Brockenhurst
The Sett
South Gorley
Hockey's Farm Shop
Exbury
Exbury Gardens – Eddy's cafe
Lymington
Deep Blue fish and chip shop
Fritham
Ice Cream van – Janesmoor Pond
Layby east of the Airfield

Test Valley

Romsey
Josie's
Wellow
Carlo's
Lockerley Green
Village shop
Costa coffee machine
Stockbridge
Thyme and Tides
Stockbridge
Coffee Lab/Woodfire
Stockbridge
Kudos Coffee
Longstock
Waitrose
Farm Shop café
Takeaway with 8 picnic tables on far side of car park
Broughton
Broughton Community Shop
At Broughton Village Hall
Cholderton
Cholderton farm shop

Middle East

Bishops Waltham
Josie's
Winchester
Handlebar Cafe
Old Winchester Hill
Alan's Coffee Van
Junction with Hayden Lane GU32 1HW
Alresford
Caracoli
Alresford
Courtyard
Alresford
Party at the Mill
Alresford
Long Barn
Whitchurch
Kudos Coffee
Whitchurch & Overton
The Village Bakery
Preston Candover
Community Shop
Hot drinks only
East Meon
Wild Kite coffee van by Village Hall
Drinks & Cake, Sat 10 am-1 pm

Far East

Petersfield
Cloisters Continental café
Rowlands Castle
Bumblebee café
Hambledon
Old Forge Tea Rooms

Not currently open

Dandy's Ford
Fishery
No plans to reopen the café
Downton
The Borough Café
Closed during lockdown
Sway
Sway Deli
Closed during lockdown / when it reopens may not be open Sundays
Barton on Sea
Beachcomber café
Reopening 12 April
Lepe
The Lookout
Closed until at least 12 April
West Meon
Village shop
Café reopens 12 April